Back in 2013 Barry Heather Complete Towing Services started using the new Westfalia Auto-Code tool to correctly code your towbar electrics to your vehicle. This means that all of your vehicles electrics (parking sensors, reversing lights etc) work effectively alongside your new towbar.
"this is a major addition to our technical capability and the level of service we can offer our customers. For the first time we can quickly and easily wire any approved towbar to virtually any vehicle"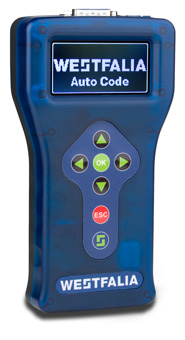 Westfalia have many years experience into the research and development of towing solutions and are one of the world's leading manufacturers of towbars and vehicle specific wiring kits. Westfalia work closely with a number of the world's leading motor vehicle manufacturers to develop Vehicle Specific Wiring Kits. Vehicle specific wiring kits provide the ultimate peace of mind in terms of both safety and reliability. When you have fitted a vehicle specific wiring kit you can easily and simply activate the vehicles towing features using AutoCode.